Overview
The AEMUS fellowship at the University of Washington is a one-year fellowship with an option for a two-year fellowship if the fellow has an interest in pursuing an advanced degree. During the fellowship, you will have the opportunity to develop advanced US skills in the hospital and prehospital settings. Mentored by our six core faculty, the educational experience is comprehensive and diverse. The fellow will have the opportunity to expand their US expertise, educate residents and students, and provide high-quality patient care to a diverse patient population.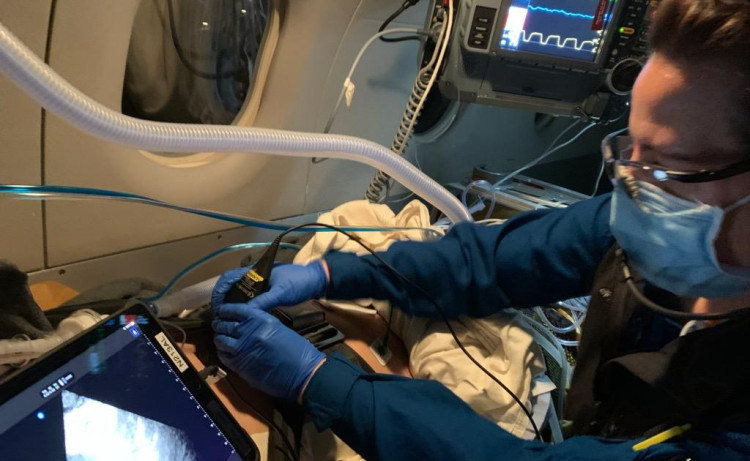 Additionally, through interdepartmental collaboration, the US fellow will be able to learn US skills from experts outside the emergency department. In conjunction with our colleagues from Cardiology, Anesthesiology, Pulmonary/Critical Care, Obstetrics and Gynecology, and Pediatric Emergency Medicine, education opportunities abound for advanced US training.
The AEMUS fellowship is accredited by the Emergency Ultrasound Fellowship Accreditation Council (EUFAC). EUFAC-accredited Advanced Emergency Medicine Ultrasound fellowships are recognized as the top ultrasound training programs for emergency physicians. Only fellowship graduates from EUFAC-accredited programs can sit for certification through the American Board of Emergency Medicine.
Opportunities
Our fellow will be provided opportunities throughout the Pacific Northwest to be a leader in prehospital and critical access ultrasound, integrate ultrasound in regional medical education, and explore the development of new ultrasound technology with industry.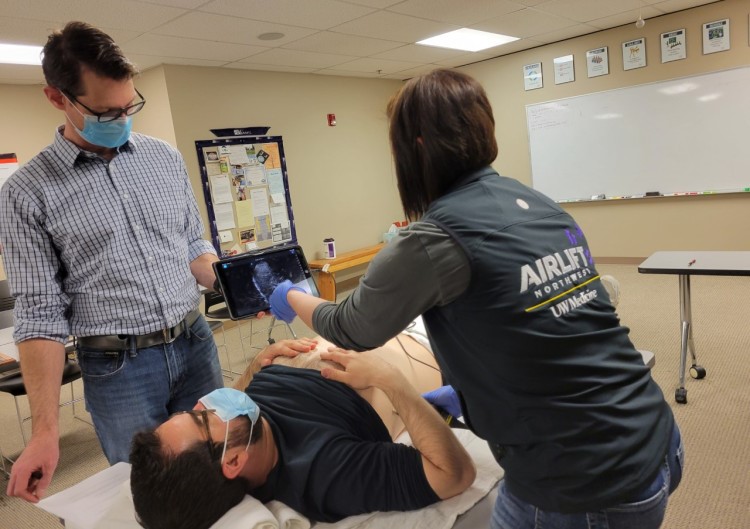 This program offers you the ability to learn new and advanced ultrasound techniques, participate in innovative research, and develop your teaching skills, all while working within the University of Washington WWAMI system. This WWAMI region encompasses 5 states (Washington, Wyoming, Alaska, Montana, and Idaho) that cover nearly one-quarter of the U.S. landmass. Our Level I trauma center is one of two in this region. Not only will you care for patients who come from all parts of this region, but you will also be engaged in the ultrasound education of medical students who come from these 5 states with the opportunity to provide in-person and tele-guidance ultrasound education sessions.
If you are interested in aero-medical transport, the Ultrasound Section at the University of Washington works closely with our colleagues at Airlift Northwest, our medical air transport system. They are at the forefront of using prehospital ultrasound for in-flight patient care. If you have an interest in working in more rural or underserved areas, there are ways to be involved in ultrasound education and care in rural areas of Alaska.
This program not only offers a truly exceptional clinical and training environment, but its proximity to the numerous outdoor activities you can engage in is unparalleled. Skiing, hiking, climbing, mountaineering, boating, and fishing are just some of the many activities that are at our doorstep.
UW & SEARHC Collaboration
The Department of Emergency Medicine's section of Ultrasound has partnered with the SouthEast Alaska Regional Health Consortium  (SEARHC) to help bring point-of-care ultrasound (POCUS) technology to remote areas of Alaska.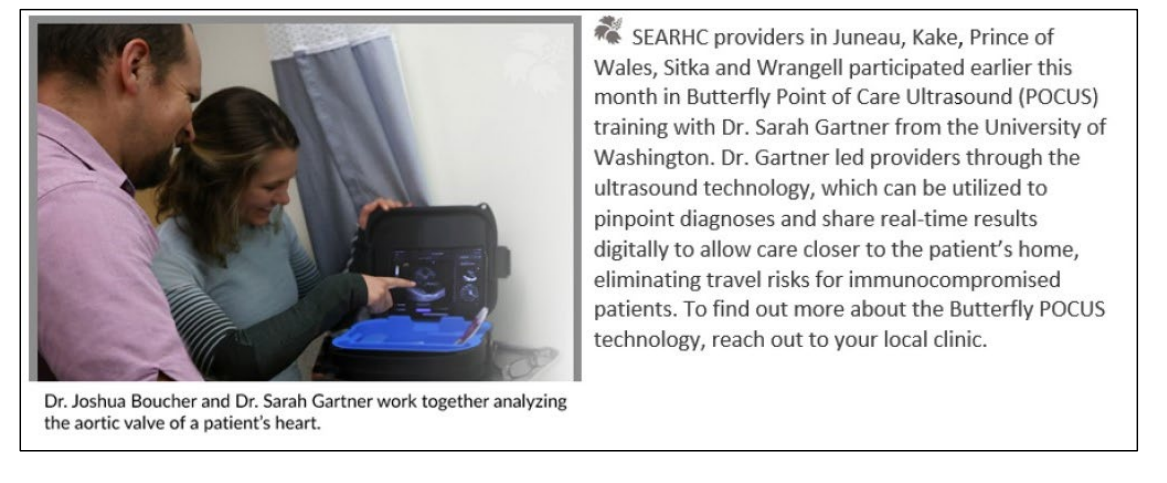 Dr. Sarah Gartner, whose niche in emergency medicine is using point-of-care ultrasound (POCUS) in austere environments, made her the ideal physician for the partnership. Read more about her work below.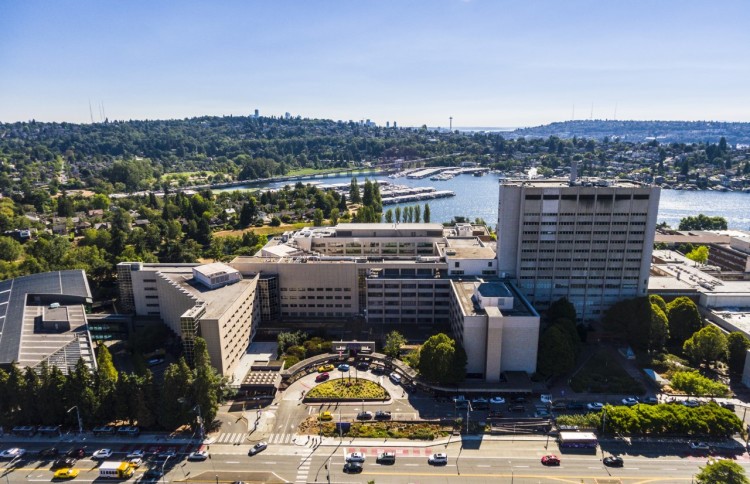 Goals
Our goal is to deliver the most unique and innovative ultrasound fellowship in the country and to produce the best educators and leaders in advanced emergency medicine ultrasonography.
In order to accomplish this we strive to:
Provide an educational environment that is conducive to learning and development of clinical ultrasound skills. Our varied clinical campuses provide the opportunity to see a wide variety of pathology.

Pursue evidenced based-practice by being up-to-date on diagnostic and procedural applications of ultrasound and use this knowledge to provide quality patient care.

Encourage fellows to think innovatively in regards to the future applications of POCUS, and encourage collaboration with engineering and industry to develop novel ultrasound applications and devices. 

Encourage the development of investigative curiosity by providing scholarly,  statistical, and administrative support for the fellow in their pursuit of scholarship and discovery. 

Cultivate the administrative skills and knowledge necessary to start an advanced emergency ultrasound program as an ultrasound director in a community, academic, or rural setting.

Provide a robust interdisciplinary educational experience that demonstrates the breadth of collaboration of ultrasound champions at UW Medicine. 

Provide impactful ultrasound teaching opportunities within the department to residents and faculty and outside the department to students across the WWAMI region and flight nurses in rotary and fixed-wing aircraft.

Develop the fellow's ability to establish a QA process and provide meaningful, constructive feedback and mentorship to learners and colleagues on ultrasound studies performed in the emergency department.
Clinical Experience
Clinical Sites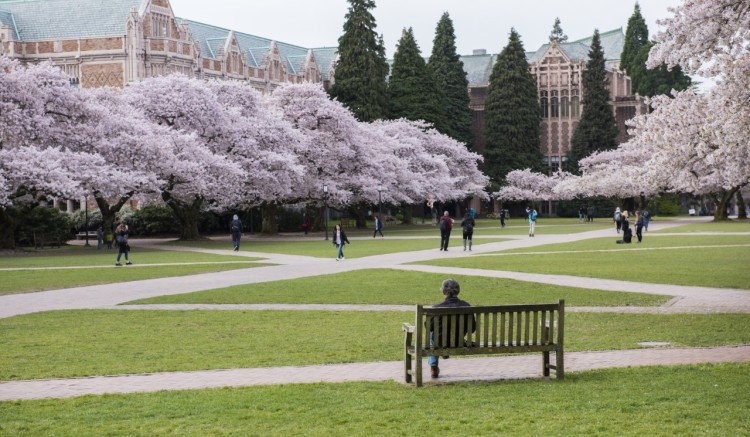 The Department of Emergency Medicine at the University of Washington encompasses the Harborview Medical Center, UW-Montlake, and UW-Northwest emergency departments:
Harborview Medical Center (HMC) is the only Level I adult and pediatric trauma and burn center serving Washington, Wyoming, Alaska, Montana, and Idaho, and has a specific mission to care for the community's most vulnerable patients. HMC also serves as the regional stroke center and the Disaster Medical Control Center (DMCC) for Seattle and King County. HMC has over 400 beds; the emergency department has 68 beds and sees approximately 65,000 patients annually.
UW Medical Center - Montlake is a tertiary/quaternary care center, providing specialized care in areas such as cardiology, high-risk pregnancy and neonatal intensive care, oncology, orthopedics, and organ transplantation. Some of the most medically complex patients are seen in the UWMC ED, many of whom are on novel chemotherapies or on second or even third transplants.
UW Medical Center - Northwest is a full-service medical center based in North Seattle, offering emergency and inpatient, and outpatient medical, surgical, and therapeutic care on a 44-acre campus that includes the neighboring Outpatient Medical Center.
Curriculum
The AEMUS fellowship curriculum has been designed to provide a combination of opportunities in Seattle and within the greater Pacific Northwest with Airlift Northwest and WWAMI medical education.
The curriculum consists of in-person didactic sessions and clinical scanning sessions led by the core ultrasound faculty. There will be rotations and interdisciplinary educational opportunities with our colleagues in pediatric emergency medicine, cardiology, pulmonary/critical care, anesthesiology, OB/GYN, and vascular ultrasound.  
Recurring QA/QI image review sessions will help the fellow create a feedback process for the clinicians that is informative and constructive in order to promote and improve good ultrasound practice and enhance patient care in the emergency department. Regular journal club meetings will help the fellows review landmark ultrasound studies, and critically evaluate new ultrasound research thus developing their ability to apply ultrasound to their patient populations
All core advanced emergency medicine ultrasonography applications will be covered and reviewed. Through educational opportunities in the emergency department and interdisciplinary collaboration outside the department, the fellow will have the opportunity to learn even more advanced ultrasound applications.
Advanced Degree and Certificate Opportunities
Certificate Courses
Fellows can receive full funding for certificate courses such as:
Teaching Scholars Program: A 10-month professional development program for educators in the health professions who have a passion for teaching and a desire to become academic leaders. One of the program goals is for Scholars to learn to recognize teaching as a legitimate subject of scholarly investigation, with the aid of a faculty mentor. 
Patient Safety and Quality: The program builds a cadre of healthcare professionals from all backgrounds with the skills to identify gaps and deploy improvements to the effectiveness, efficiency, equity, and value of care delivery. Participants will also develop the skills to effectively disseminate their work and build a track record of scholarship in patient safety and quality.
Other certificate programs may be pursued as well. 
UW tuition-exempt Master's Degrees in the School of Public Health:
MS in Health Services with a Clinical and Translational Research Concentration: designed to provide students with a solid foundation in clinical and translational research methods as well as related competencies such as grant writing, ethical research conduct, and leadership.
MS in Epidemiology Master of Science: designed to help you develop a solid foundation in quantitative research methods skills while providing curricular flexibility that allows you to explore substantive content areas of interest to you.