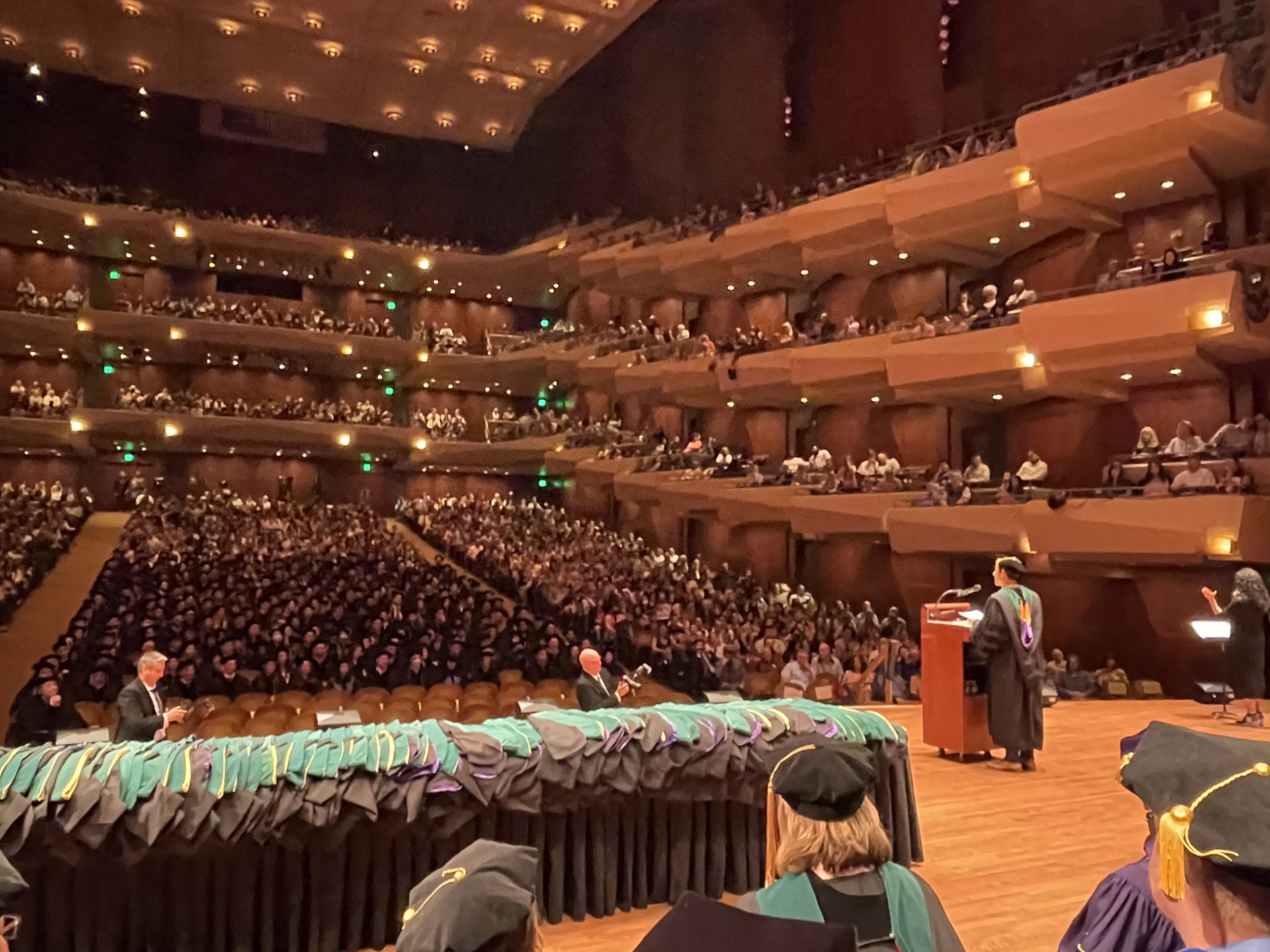 News
Dr. Jauregui Selected to Give Commencement Address at 2023 Physician's Oath & Hooding Ceremony
May 31, 2023
Pinned
Back to top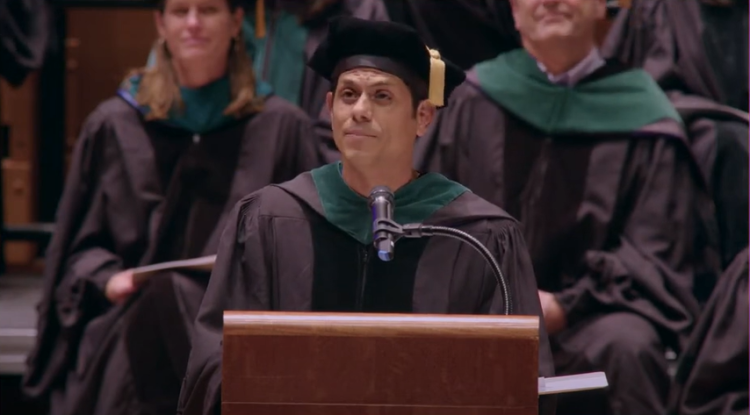 Inside a packed Benaroya Hall on Saturday, May 27th, the Department of Emergency Medicine's Dr. Joshua Jauregui delivered the Commencement Address for the 2023 Physician's Oath and Hooding Ceremony.
The students graduating in 2023 are the 74th class to receive the degree of Doctor of Medicine (M.D.) from the University of Washington. The Physician's Oath & Hooding Ceremony acknowledges the achievements of UW's medical students. 
Dr. Jauregui was selected by the graduating class to give this year's Commencement Address. He is an emergency physician, the Director of Student Programs and the Clerkship in Emergency Medicine, the Associate Director of Health Professions Education Scholarship for the Center for Leadership and Innovation in Medical Education (CLIME), and Olympic College Faculty in the UWSOM. Additionally, he is currently completing the Master of Health Professions Education (MHPE) program at Maastricht University in the Netherlands.
Despite all these achievements, Dr. Jauregui noted in his speech that being in his current position was never certain. He recalled the first, and only time, he interviewed for medical school while wearing orange flip-flops. Dr. Jauregui joked that it was naive on his part, but seeing that he was the first generation in his family to go to college, he was not familiar with the 'rules of the game.' 
"I grew up in a household furnished with items retrieved from the back-alley dumpster and attentions focused more on solving issues related to food insecurity and fulfilling other necessities than certain professional expectations. I tell you this for context…I really thought I was a shoo-in for acceptance to medical school, orange flip-flops and all," said Dr. Jauregui. 
Dr. Joshua Jauregui giving the Commencement Address at a packed Benaroya Hall for the UWSOM Class of 2023.
Dr. Jauregui continued to describe how he received a call one week later, asking how his interviewers should reconcile who he was since he showed up to this major event wearing orange sandals. 
"This culture clash made me realize – for the first time – that who I was…and the norms I had grown up with that informed my self-presentation choices- might not always align with what medicine says I am supposed to be. It was also my first lesson that, despite that, I did and do belong. As do all of you. No matter what you choose to wear on your feet," said Dr. Jauregui.
Dr. Jauregui shared bits of advice with the graduating class, noting that as physicians, they will be afforded choices and benefits simply because they are physicians. He said it is not enough to care for patients, but to help correct the conditions that contributed to their needs in the first place. He reminded graduates that their degrees will open doors for them, so they should walk through those doors and meet the opportunity to advocate for justice.
"There are those that tell you to stay in your lane. Remember that your patients exist outside any lane and resist the harm that such structures bring. What that will look like, and what that will feel like for you will depend on your journey. Remember not only that you can make a difference, but you must make a difference," said Dr. Jauregui.
Watch the full graduation ceremony here. Dr. Jauregui's speech begins at 43:50. 
Congratulations to the class of 2023!