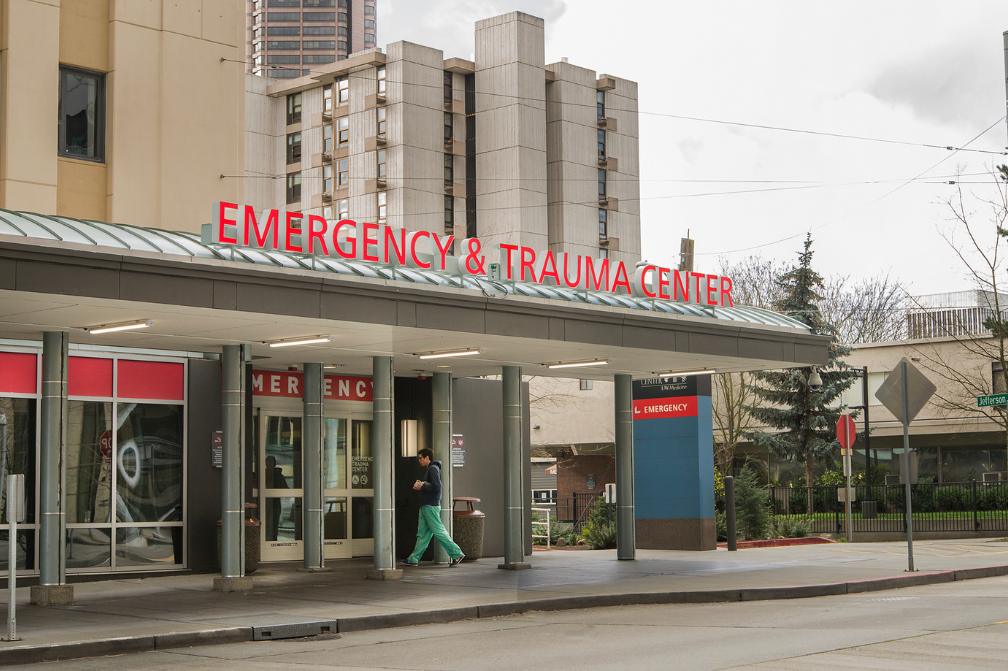 News
WMCC's Pediatric Response to Tripledemic Prepares Healthcare Leaders for Winter Surge of Respiratory Illness
November 14, 2023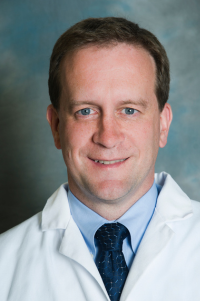 Pinned
Back to top
The COVID-19 pandemic, seasonal flu and rise in Respiratory Syncytial Virus (RSV) cases placed an unprecedented strain on healthcare systems last year. The 'tripledemic' not only impacted adults, but children as well, causing healthcare leaders to collaborate to balance the pediatric patient surge. 
Dr. Steve Mitchell, an Associate Professor in the Department of Emergency Medicine, is also the Medical Director of the Washington Medical Coordination Center (WMCC), which operates out of Harborview Medical Center. Harborview has historically had a role in regional and statewide surge coordination, primarily in short-term surges related to disasters. But when it came to COVID-19, Dr. Mitchell said they knew they needed to adapt.  
Dr. Mitchell, alongside Dr. Mary King, the Medical Director for the Pediatric Trauma ICU at Harborview, and Dr. Vicki Sakata, Senior Medical Advisor to the Northwest Healthcare Response Network, recently shared their expertise managing the 'tripledemic' in Washington State during the Administration for Strategic Preparedness and Response's (ASPR) Speaker Series Presentation 
"In the early days of the pandemic we formalized agreements across the state to develop a coordination role where our goal was to distribute patients to hospitals that could provide the care that they needed," said Dr. Mitchell.  
The WMCC became the Medical Operations Coordination Center (MOCC) for Washington State in mid-2020. This was made possible by coordination across all aspects of Washington hospital leadership including the Washington State Department of Health, Washington State Hospital Association (WSHA), the Regional Emergency and Disaster Healthcare Coalition (REDI), and the Northwest Healthcare Response Network. Having the MOCC established prior to the tripledemic made it easily adaptable. WMCC leveraged these key relationships and structure to adapt to a surge in viral illness which promised to overwhelm the limited pediatric hospital resources in Washington.    
Dr. Mitchell said one policy that was put into place early on was the Guaranteed Acceptance Policy. This is where the WMCC determines when a guaranteed acceptance rotation system is necessary. When in effect, the WMCC notifies WSHA who then notifies the major hospital CEOs. This policy was modified for pediatric cases at the beginning of the surge when the pediatric-focused MOCC was created.  
Challenges: 
There were three major challenges when it came to pediatric care during the tripledemic:  
1) Healthcare leaders had to rapidly expand a pediatric health system which was under severe stress and had constraints in Washington. According to Dr. King, there are seven PICU beds per 100,000 kids compared to adults who typically have about 35 beds per 100,00 adults. 
2) Pediatric triage support for critical care nurses. Dr. Mitchell said they had to provide this for the adult critical care nurse team at the WMCC who had little experience in managing pediatric cases.  
3) Provide expert support for hospitals requesting assistance and transfer for their patients. 
Solutions: 
The team found multiple solutions, starting with rapidly expanding the use of acute care pediatric beds in community hospitals. Additionally, they looked at providing PICU care in the MICU and expanding neonatal ICUs. Finally, they were able to coordinate support for referring hospitals with critically ill children with the help of PICU consultants at the tertiary referral centers.  
"In the case of expanding NICU capacity, in our experience, we were more successful with the academic medical centers who were able to be more malleable and expand their capacity to accept the very young children who are disproportionately impacted in this circumstance," said Dr. Mitchell. 
On-call pediatric ICU attendings at Harborview Medical Center were also utilized as subject matter experts for triage decisions and decision-making, allowing both receiving and sending hospitals to feel confident that the right decisions were being made.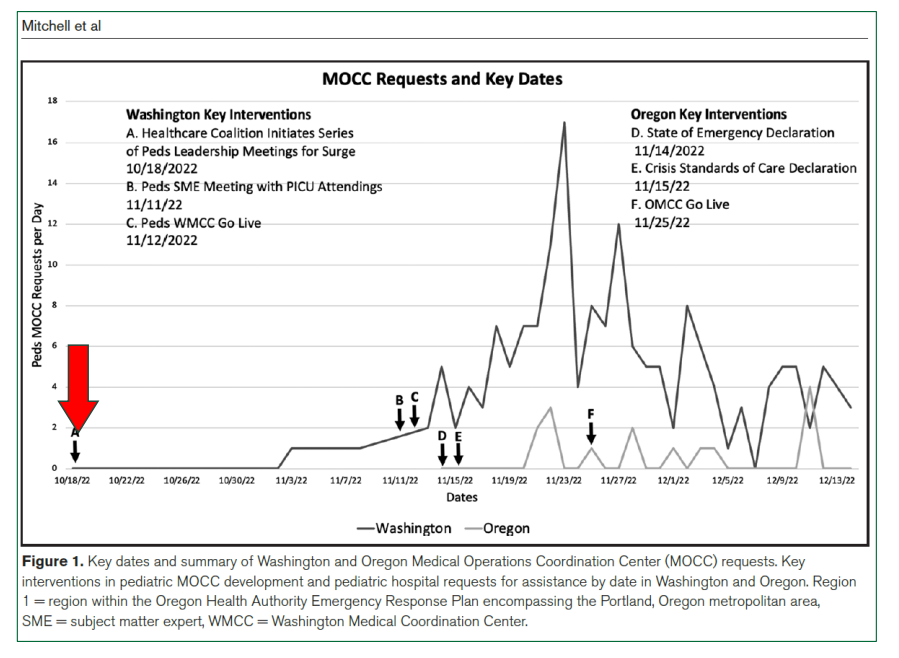 Results and Reflection: 
Between November 1st, 2022, and December 14th, 2022, all pediatric acute and critical care beds were severely over capacity in Washington State, and WMCC managed 171 pediatric requests, which were disproportionately for very young children, according to Dr. Mitchell. 
More than half were considered critically ill when the requests were received, but 100 percent were accepted within three hours of the initial call to their team. 
"It wasn't difficult to fold into our already existing numbers a focused effort on pediatrics," said Dr. Mitchell. "We had a function, the process, the relationships, and importantly the trust already established. The disadvantage was the lack of pediatric expertise.  Also, the transportation issue, which was not specific to the WMCC, is a general challenge and something that we have not successfully coordinated in a significant manner and still exists as a challenge we need to overcome." 
When it comes to developing a pediatric capability within a MOCC, Dr. Sakata's main recommendation is to understand your data and to concentrate on refining your pediatric data. 
"I know a lot of us during COVID-19 really focused on the adults and getting the adult data correct, which is great. But I think the tripledemic forced us to see that pediatric data is super important as well because there just are not enough pediatric resources in general," said Dr. Sakata. "I think we have embraced those lessons learned here in Washington by developing PICU telehealth and looking at NICUs to see how they can expand during surge. There are several community facilities that feel so much more capable now of managing sicker kids and that's better for patient care in general." 
Understanding your pediatric system is another recommendation. Dr. King suggests connecting with your healthcare coalitions, pediatric centers, and your community hospitals that take care of kids. 
"I think that's the place to start. You have to have the relationships and understand what the resources are," said Dr. King. "Step two is thinking about what fits your geography, your system, for pediatric centers. For us, it made sense to partner with our adult colleagues. We have a mixed-adult-pediatric trauma center that already had developed a MOCC. There was a natural place for us to really fit in there." 
Additional Resources: