About us
The section will advance this mission through clinical care, research, education, administrative leadership, and quality improvement and assurance. The emergency physicians and intensivists who will make up the Section of Critical Care are uniquely positioned to understand the full spectrum of critical illness and have local, regional, and national leadership roles and collaborations.
The DEM Section of Critical Care will bring together a wide range of critical care clinical expertise including medical, surgical, cardiothoracic, and neurocritical care, with academic emphases on cardiac arrest, acute respiratory distress syndrome, clinical trials, extracorporeal membrane oxygenation, neurologic emergencies, and critical care echocardiography.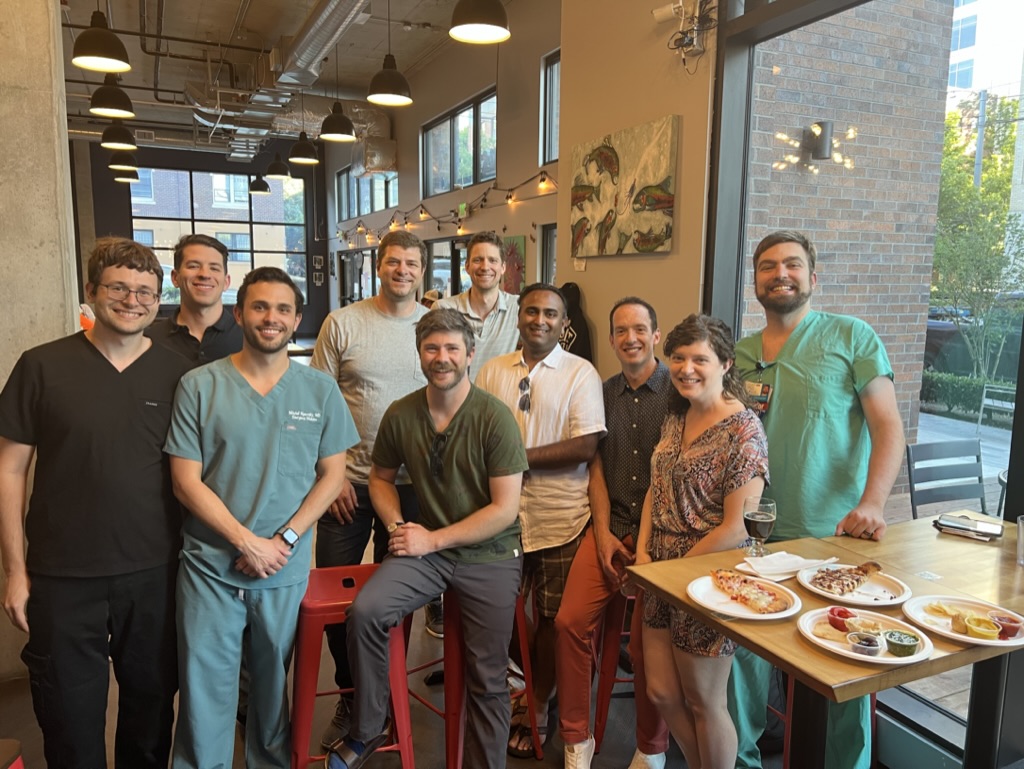 Our Vision
Provide expert clinical care in the emergency departments and intensive care units throughout UW Medicine.
Better ensure smooth and safe transitions of patients between the emergency departments and intensive care units within UW Medicine by building relationships and elevating clinical standards.
Educate a broad range of learners from emergency medicine, critical care, neurology, internal medicine, surgery, anesthesiology, and other fields.
Conduct collaborative, impactful research focused on the care of critically ill patients in the emergency department and beyond.
Lead and advise key programs within UW Medicine, regionally and nationally, including cardiac arrest care, inpatient clinical emergencies, extracorporeal life support, and neurologic emergencies.
Critical Care & Emergency Medicine
What is EM Critical Care?
Critical Care is an ACGME-accredited subspecialty of emergency medicine. EM-Critical Care (EMCC) specialists typically complete two years of fellowship training in critical care after emergency medicine residency via one of the following four training pathways:
Internal medicine-critical care medicine
Anesthesia-critical care medicine
Neurocritical care, or
Surgical critical care
Fellowship is followed by board certification in both EM and critical care. EMCC specialists are qualified to work in both emergency departments and intensive care units, and a majority have a split practice. EMCC specialists have unique skills in resuscitation, ventilator management, complex procedures, ultrasound, hemodynamic monitoring, and team leadership, among others. They build bridges between emergency departments and intensive care units and help promote collaboration and mutual understanding.
Key Local Activities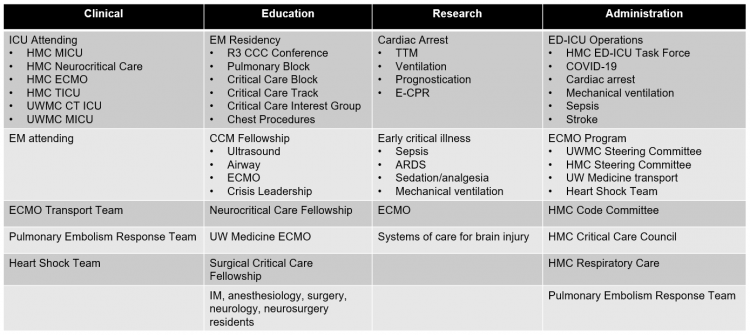 Education initiatives 
Critical Care Medicine Fellowship 
The University of Washington's Division of Pulmonary, Critical Care, and Sleep Medicine offers fellowship training in Critical Care medicine to selected graduates of ACGME-accredited emergency medicine residency programs. The fellowship provides outstanding training in all aspects of critical care medicine, with training in medical, surgical, trauma, neurological, and cardiothoracic ICUs throughout the UW Medicine system.
UW also accepts emergency medicine-trained applicants via the anesthesiology-critical care and neurocritical care fellowship training pathways.
Critical Care Residency Pathway
The critical care pathway is designed for residents strongly considering fellowship training and/or a career in critical care. The pathway features additional critical care rotations, structured mentorship, meetings and didactic sessions, and a scholarly project. All UW EM residents complete five months of required critical care rotations.
cLINICAL aCTIVITIES 
Faculty from the Section of Critical Care provides expert care for patients in the emergency departments and intensive care units throughout UW Medicine and serve on a number of specialty teams, including the Extracorporeal Life Support Service, Pulmonary Embolism Response Team, Heart Shock Team, and ECMO Transport Team.
HMC MICU 
HMC Neurocritical Care 
HMC ECMO 
HMC TICU 
UWMC CT ICU 
UWMC MICU 
EM Attending 
ECMO Transport Team 
Pulmonary Embolism Response Team 
Heart Shock Team 
​