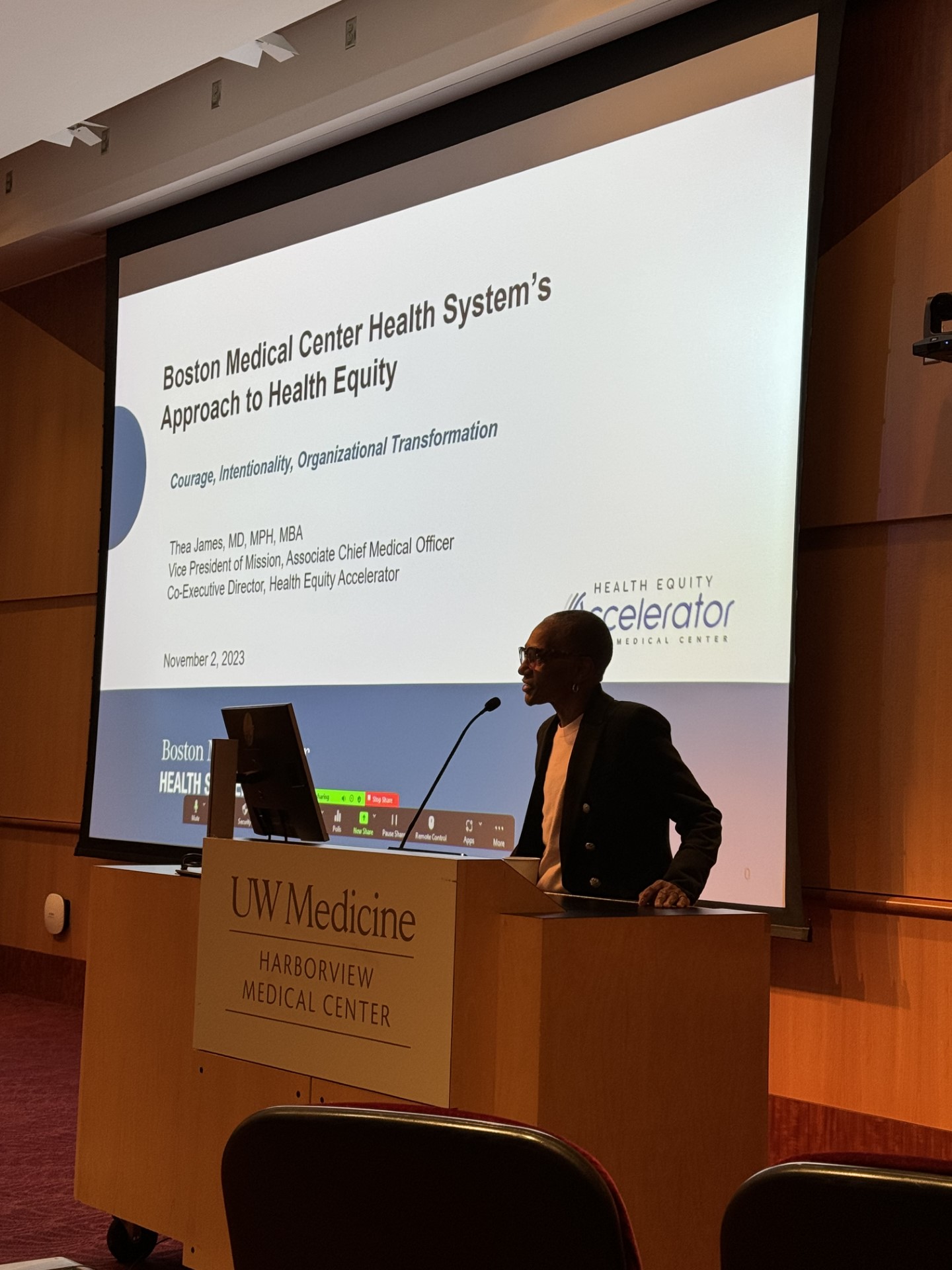 News
Equity Based Healthcare: Dr. Thea James Presents at Population Health Grand Rounds
November 7, 2023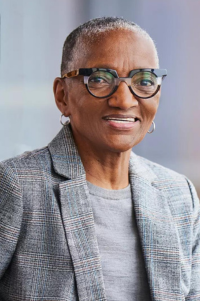 Pinned
Back to top
The Department of Emergency Medicine was honored to host Dr. Thea James as a Population Health Grand Rounds guest speaker. 
Dr. James, a Professor of Emergency Medicine in the Department of Emergency Medicine at Boston University Medical School, has been a visionary thought leader in social emergency medicine for decades. Her early work in violence prevention in the Boston community, national-level advocacy in violence intervention/prevention, and racial disparities in medicine has served as a backbone for much of the modern social emergency medicine movement. Dr. James currently serves as Vice President of Mission and Associate Chief Medical Officer at Boston Medical Center. 
Her recent presentation for Grand Rounds was focused on Boston Medical Center Health System's approach to equity, courage, intention, and transformation. 
Dr. James discussed Boston Medical Center's process to refine their approach to health equity, to not only identify disparities but also initiate community-driven solutions to emergently address health equity issues affecting the BMC community. Engaging multiple medical and inter-disciplinary specialties, community members and organizations, and patients and their families. Her team engaged more than 80 leaders across the organization to develop a more holistic, comprehensive approach to advancisng health equity. Dr. James said they broke into six work groups where each group had to identify three or four disparities that could be addressed in the following one to two years.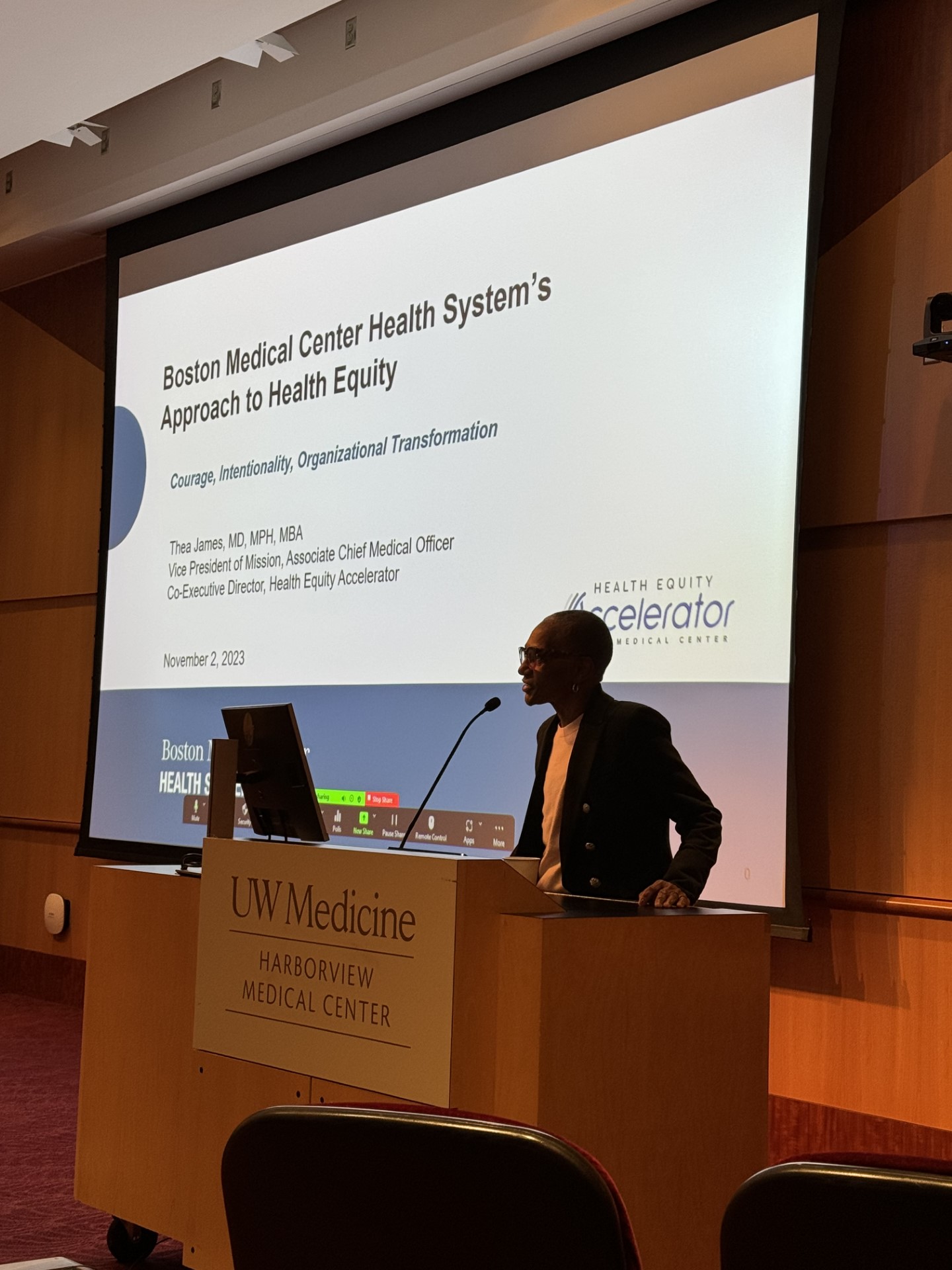 To operationalize their findings, the team worked with a consultant and facilitator to create the Health Equity Accelerator. From there, they determined the clinical care focus areas with the largest health equity gaps were maternal and child health, infectious diseases, behavioral health, chronic conditions, oncology, and End-Stage Renal Disease (ESRD). 
Their data echoes national data demonstrating that infant mortality is 4.1x higher for Black infants and 3.4x higher for Latinx infants compared to white infants. Researchers in the Health Equity Accelerator program also showed these disparities are present for infectious diseases such as HIV and COVID-19 in their community. 
With that data, the team partnered with community members, patients, and families to find solutions geared toward tackling the root causes of these inequities. When forming solutions to reduce COVID disparities, the issue of vaccine hesitancy and lack of accessibility to vaccination arose as a possible contributor in a series of community Zoom-based meetings between patients and physicians of color. 
The team achieved their goals of improving understanding, trust, and communication around the COVID-19 vaccine and the healthcare system in general. When faced with concerns about the lack of vaccination sites that were easily accessible in the areas of Boston where the majority of people are minorities, Dr. James said her team went out into the community and walked through various buildings with community members to physically identify where sites should be.  
"What should they look like, feel like? And then we set up the whole operation together. We were able to vaccinate those communities at 4.5 times the rate the state was able to do it," said Dr. James.  
Since then, Dr. James said they have designed interventions to address inequities that build upon the lessons learned from previous health justice work. This includes standardizing protocols to eliminate delays in diagnosis and treatment initiation for under-represented groups and advocating for the elimination of barriers to economic mobility. They've also developed relationships with strategic partners like corporations and local governments to influence initiatives that directly benefit their communities. 
The Accelerator hopes to establish itself as a leader and build a model that other healthcare institutions can replicate to advance health equity across the U.S.  
The UW EM Section of Population Health was thrilled to have Dr. Thea James as our first Grand Rounds speaker of the academic year, and her presentation of the Accelerator program has already inspired several ideas for collaborations across the institutions.