PROGRAM ADMIN
Jessica Klein
Phone: (206) 744-2556
Fax: (206) 744-4097
Email: jlklein@uw.edu
PGY1 Applications
The University of Washington Affiliated Hospitals Emergency Medicine Program accepts PGY1 applications only through ERAS– the Electronic Residency Application Service, administered by the Association of American Medical Colleges (AAMC). 
Required documents
The following items are required as part of your ERAS application:
Personal Statement
Please submit a brief personal statement telling us something about yourself, your plans for residency training, and your career goals in emergency medicine.
Medical School Transcript
We require an official copy of your medical school transcript.
Dean's Letter
Ask your medical school to provide a copy of your Dean's letter. Your Dean's letter is required to complete your application.
Letters of Recommendation
One Standard Letter of Evaluation (SLOE) is required for your application; two are preferred. You should, therefore, complete your Emergency Medicine rotations as soon as possible.
Anyone with prior residency training must submit a letter from their program director.
USMLE Scores
Your USMLE Step 1 score is required to apply. Step 2 scores are preferred but not required to complete your application.
Visas
The UW Emergency Medicine Residency Program may accept foreign national physicians meeting UW Eligibility and Selection requirements into its residency program. Foreign nationals requiring visa sponsorship must obtain a J-1 visa sponsored by the Educational Commission for Foreign Medical Graduates (ECFMG). The UW EM program does not provide H-1B sponsorship for residents.
Important Dates
October 15th: Last day to apply. Applications received after this date may not be reviewed.
December 15th: All interview offers or waitlist notifications will be made on or before this date.
Interviews
Invitations to visit our program and interviews with our faculty will be given only to applicants who, in our opinion, have a reasonable chance of matching into our program. We do not offer individual interviews outside of the scheduled group interview sessions. 
An invitation will be extended only after we have reviewed the material supporting your application. Your Dean's letter is required to complete your application. After reviewing your application materials, we will notify you via email of our decision. 
Since there is a limit to the number of applicants we can accommodate on any given day, you should schedule your interview as soon as possible after receiving your invitation. We schedule interviews through Interview Broker. If you have any questions, do not hesitate to contact our office. 
All interviews will be held virtually.
Salaries/Benefits
University of Washington residents in ACGME-accredited programs are members of the UW Housestaff Association. As such, EM residents are entitled to the following stipends and benefits:
Additional information for prospective residents can be found on our GME website here.
Diversity Statement
The University of Washington (UW) Department of Emergency Medicine and its affiliated hospitals serve a broad community that includes the Puget Sound area as well as the rest of Washington, Wyoming, Alaska, Montana, and Idaho (WWAMI). The WWAMI region comprises approximately 27% of the United States (US) land and nearly 5% of the US population. The WWAMI partnership ensures that our medical teams care for patients from unique cultural and varying socioeconomic backgrounds. 
We at the University of Washington and Harborview Medical Centers proudly welcome all patients who seek care in our emergency department - and our EM community is dedicated to representing the rich diversity of the populations we serve.
The UW Department of Emergency Medicine seeks residents, fellows, and faculty that reflect the broad-reaching diversity of the patients we care for. We aim to train under-represented minorities in medicine, those who come from a variety of socio-economic backgrounds, representatives of rural and urban areas, those with domestic and/or international upbringings, those with prior careers before medicine, and those that identify as members of the LGBTQ community.  We celebrate inclusion and invite conversation in all aspects of our clinical practice, our trainees, and our community.
Life in Seattle & Washington
University of Washington Emergency Medicine Residents come from all over the country, much like the rest of Seattle.
As a city of transplants, Seattle ranks No.3 in the "geographic diversity index," just behind Las Vegas, NV, and Colorado Springs, CO.
Founded in 1861, the University of Washington ("U Dub") is home to approximately 49,000 students. The University of Washington comprises 16 schools/colleges and competes in the NCAA Division I Pacific-12 Conference.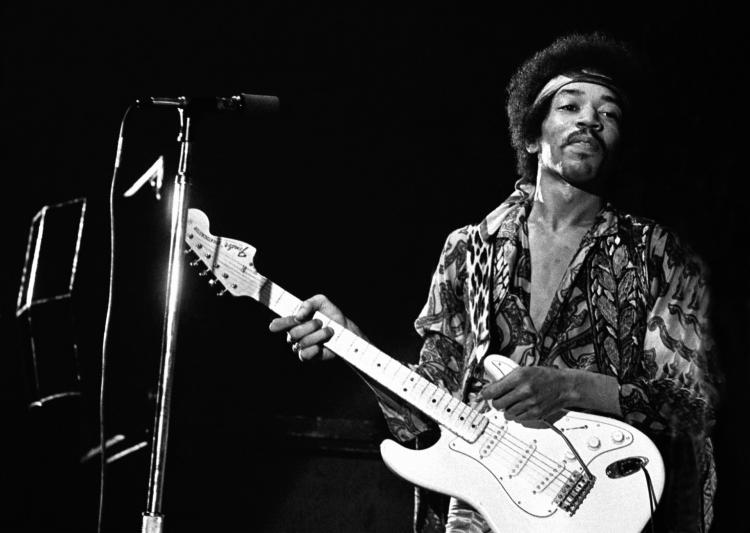 Seattle has been home to many influential rock artists, including Jimi Hendrix (pictured here), Nirvana, and Pearl Jam. More recent exports include Death Cab for Cutie and Macklemore. There are many venues showcasing local bands and numerous music festivals throughout the year.
The Seattle Center was originally built for the 1962 World's Fair.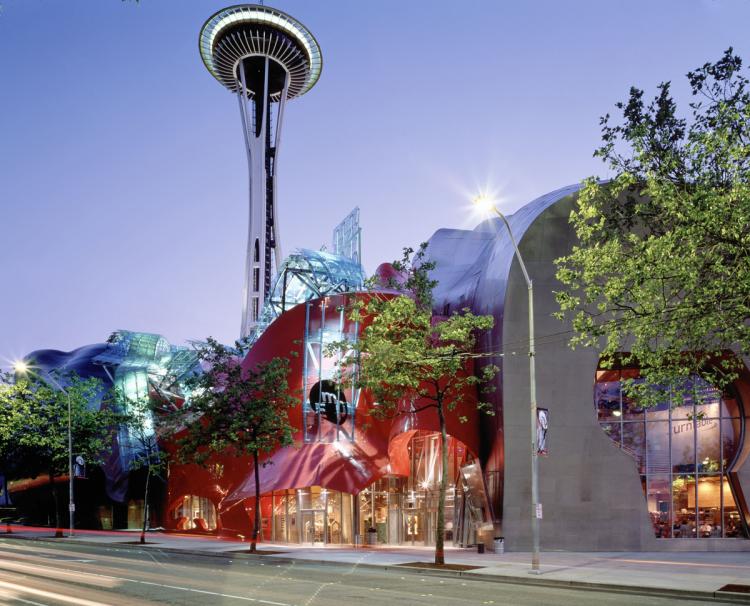 A few of the original attractions remain, including the Seattle monorail and the Space Needle, which was the tallest building west of the Mississippi River at the time. The Experience Music Project (EMP) was built in 2000 and is a museum to showcase popular culture.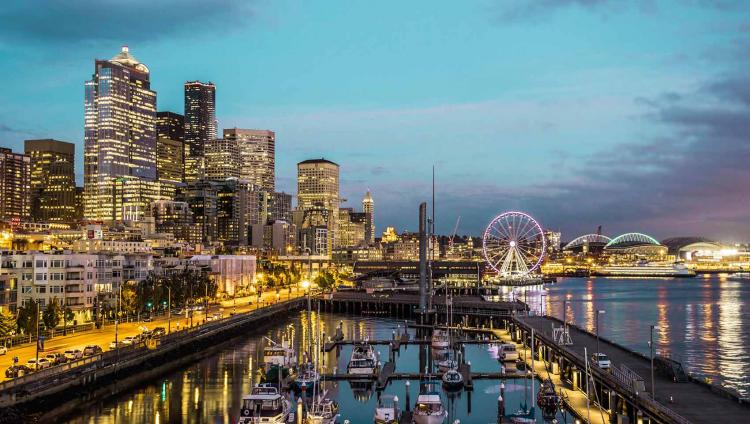 Seattle Waterfront--a span of parks, piers, ferry, and ship terminals--faces Elliott Bay and Puget Sound, both of which support port facilities and direct access to the Pacific Ocean. [The Port of Seattle plays a key role in bringing international trade, transportation, and travel to the Pacific Northwest.]  Seattle parks, the Seattle Aquarium, and the new Seattle Great Wheel are Seattle Waterfront attractions.
Seattle is also home to the Seattle Mariners, Seattle Seahawks, Seattle Sounders, OL Reign, and Seattle Storm.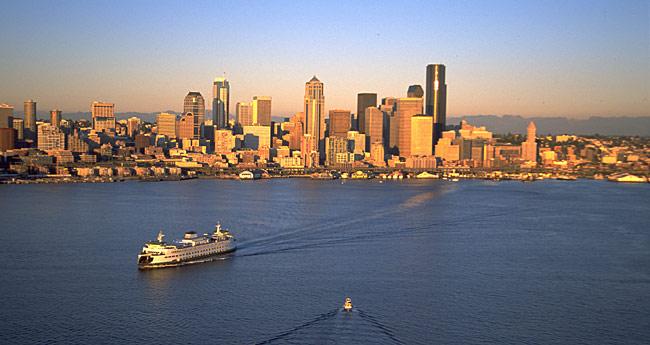 Take a day trip to Bainbridge Island or Bremerton by hopping on a Washington State ferry from Seattle's Waterfront. The San Juan Islands, Vancouver Island (and the city of Victoria, B.C.), and other locations are easily accessible via local ferries as well.
The Pike Place Market is one of the oldest continuously operated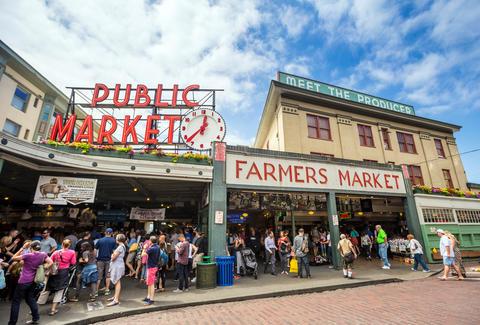 public farmer's markets in the country and remains one of Seattle's most popular tourist destinations. It is a place of business for many small farmers, craftspeople, and merchants. It comprises multiple floors with vendors for fresh seafood, produce, and crafts. Visit the Market to experience the famous "fish throwing."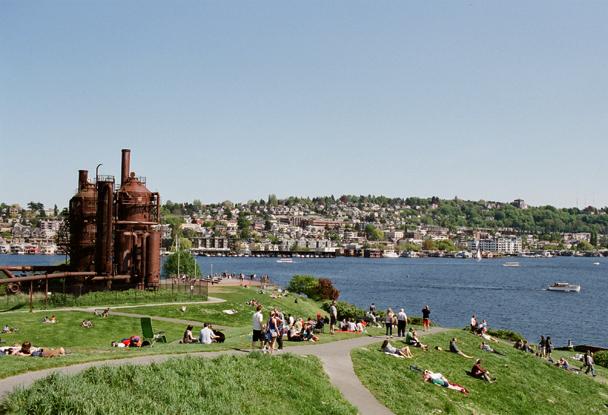 Gasworks Park is one of over 400 parks located in Seattle. Located on the northern shore of Lake Union, it surrounds the remnants of the only remaining coal gasification plant in the United States. It is a very popular July 4th fireworks viewing spot.
Seattle is home to a diverse population of over 750,000 people, making it the largest city in the Pacific Northwest. The Seattle metropolitan area has a population of over 3.5 million. Seattle is home to Boeing, Microsoft, Amazon, Costco, Nordstrom, and Starbucks, and is one of the fastest-growing major cities in the US.
The international district is a great place to score some great food, including the world's largest bowl of pho. The streetcar allows for easy access to the international district, and there are frequent food festivals during the summer months.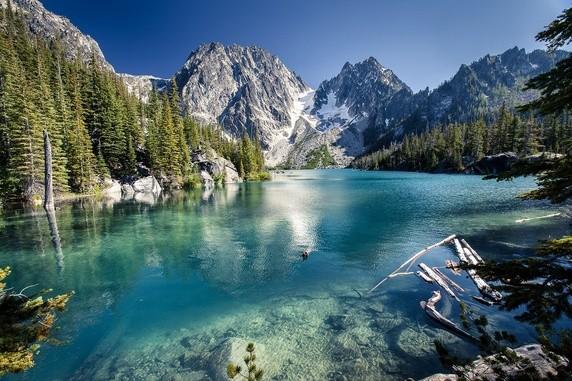 In just a 45-minute drive from Seattle, you can escape the city and be surrounded by mountains and wildflowers. There are hundreds of scenic trails and wonderful sights at the bidding, including Mt. Rainier, Mt. St. Helens, and Mt. Baker.
The saying, "If it's raining in Seattle, it's snowing in the mountains" can be heard frequently in the winter as people head to the slopes. This saying underscores the sheer abundance of winter activities that can be found within two hours of the city--downhill and cross-country skiing, snowboarding, snow-shoeing, and ice climbing.