About us
Time-sensitive emergency conditions, including trauma, out-of-hospital cardiac arrest (OHCA), myocardial infarction, stroke, and brain injury, are collectively among the leading causes of death in the United States.
The care provided during the first minutes and hours after critical illness and injury often determines survival. Successful treatment of these conditions requires rapid recognition followed by sustained resuscitative efforts until definitive therapy can be achieved. This often requires integrated teams and systems of care that span both geography and medical specialties.
Locally, Seattle and King County are both leaders in resuscitation of critical illness and injury, boasting the highest rate of neurologically intact survival from out-of-hospital cardiac arrest, a leading regional Level-I Trauma and Burn Center (Harborview Medical Center), and an advanced quaternary care center offering advanced circulatory life support (University of Washington Medical Center). These achievements are due to local excellence in prehospital medicine from Seattle and King County Medic One, aeromedical critical care transport provided by Airlift Northwest, and robust investigation led by the faculty of the UW School of Medicine.
However, the same accomplishments have been difficult to reproduce outside of Seattle and King county where resources and capabilities are not as accessible. This leaves most Americans and global citizens without access to the newest life-saving technology and treatments.
The RESCU Center is our solution to this problem.
OUR MISSION
We have assembled an integrated, multidisciplinary team of clinicians, scientists, and engineers who will actively work together to understand and quickly address relevant knowledge and technology gaps. This horizontally integrated program will cross traditional silos to break down barriers to innovations that have historically held back progress in this area.

RESCU will undertake rigorous research involving resuscitation strategies and/or procedures in the pre-hospital and hospital environments that advance our understanding of cardiac arrest, trauma, and shock pathophysiology and treatment. Technology development is an integral theme of the RESCU Center. We believe the strategic application of multifaceted technology can accelerate discovery and translation.
Collaboration
Our goal is to add value to the current resuscitation research ecosystem at UW by collaborating with and complementing existing UW research institutes and centers of excellence.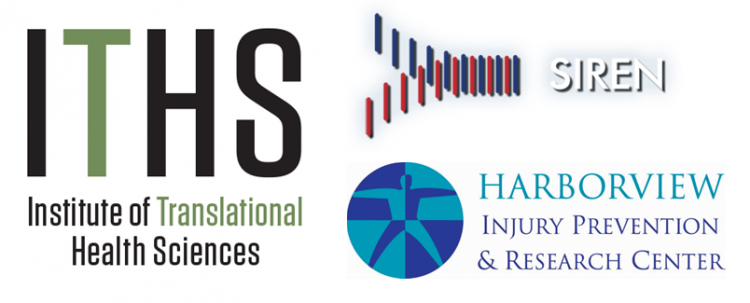 The Strategies to Innovate Emergency Care Clinical Trials Network (SIREN) seeks to improve the outcomes of patients with neurologic, cardiac, respiratory, hematologic and trauma emergencies by identifying effective treatments administered in the earliest stages of critical care.
The Harborview Injury Prevention & Research Center (HIPRC) is dedicated to reducing the impact of injury and violence on people's lives through research, education, training, and public awareness using epidemiological, acute care, and rehabilitation research.
Finally, the Institute for Translational Health Sciences (ITHS) provides broad-based support to the UW community to enhance translational and scientific capabilities for the benefit of patients and communities throughout Washington, Wyoming, Alaska, Montana, and Idaho (WWAMI).
The existing centers have strong expertise and capabilities in prevention, implementation science, and clinical trials. However, there remains a significant gap in preclinical science and technology research needed to translate new engineering concepts and technologies from the bench to the bedside.
To meet this need, RESCU focuses on providing a laboratory-based multidisciplinary home to foster advanced resuscitation science and technology development. Adding RESCU as a key partner to the current resuscitation research ecosystem complements current centers and elevates all resuscitation-focused efforts at the University of Washington and for the entire WWAMI region.
Research campaigns
RESCU will focus on developing scientific areas of excellence that will address major knowledge/implementation gaps by leveraging our collective strengths to innovate in a way that has potential to be transformative.
Examples of RESCU thematic campaigns include but are not limited to:
Advanced Artificial Resuscitation
This campaign will focus on developing synthetic solutions for resuscitation of critical illness and injury arising from trauma, burns, cardiac arrest, and shock.
Activities will include development of synthetic hemostats and oxygen carriers to replace blood products and stop bleeding in addition to novel strategies for resuscitation of trauma, burns, ischemia, and shock.
Development of advanced applications and strategies for cardiac arrest and artificial circulatory support, including extracorporeal life support (ECLS).
Testing of existing and newly developed invasive and noninvasive tools intended to guide resuscitation.
In addition, portable microfluidic diagnostic platforms will be developed, and artificial intelligence will be leveraged to enhance diagnosis, prediction, management, and prognostication of critical illness and injury.
Remote and Extreme Resuscitation
This campaign will focus on developing new knowledge and technology to support remote critical care throughout the WWAMI region and globally.
This campaign will also develop technology used to enable remote resuscitation and resuscitation under the influence of extreme and unique environments.
Examples include facilitation of remote endovascular resuscitation and ECLS, long distance telemonitoring, and resuscitation of diseases related to extreme and aerospace environments of abnormal gravity, atmospheric pressure, temperature, and austerity.
ORGANIZATIONAL STRUCTURE
RESCU is hosted by the UW Department of Emergency Medicine within the School of Medicine and is intended to be horizontally integrated with the School of Medicine, College of Engineering, and clinical partners.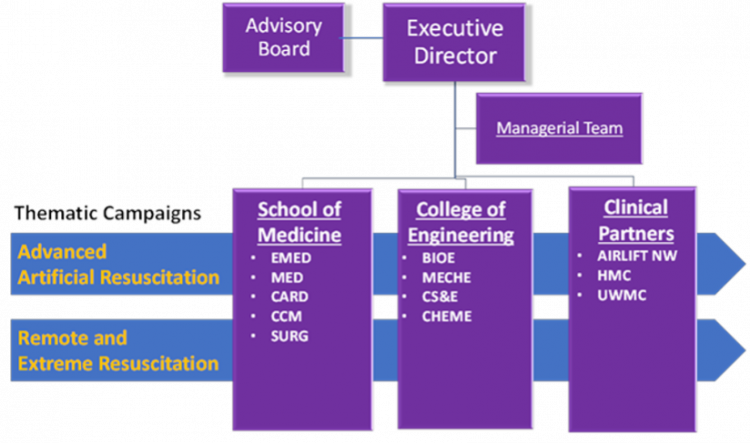 The unit will be overseen by a director who will provide general oversight and direction, associate directors who will provide content expertise and individual project stewardship, and an external advisory panel made up of content experts and leaders capable of providing objective advice and direction to the unit. 
Research efforts are grouped into thematic campaigns to promote organization and efficiency. Individual research projects are undertaken by an interdisciplinary team led by clinicians, scientists, and engineers working together.
We welcome additional faculty and investigators to join RESCU as affiliate members. Please contact Nathan White, MD (whiten4@uw.edu) if you would like to know more about how to get involved.